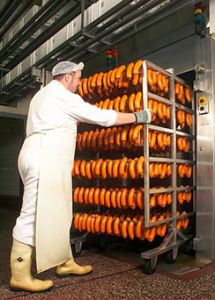 Germany's meat products industry: Long tradition with a modern outlook
The German meat products industry looks back on a long tradition. The country has centuries of experience in making sausages and cold cuts and adapting the long-standing, handed-down traditions to keep pace with modern demands. Many traditional meat products such as Black Forest ham or Frankfurter sausages have achieved world renown. The German meat products industry is characterised by the huge range of hundreds of different types and countless regional varieties.
Together with the traditional meat products, the German companies in the industry naturally also supply a large number of items to meet the modern expectations of consumers all over the world. This includes among others low-calorie products, together with a wide selection of convenience products and snack articles.
State-of-the-art technology and top hygiene standards, many years of experience, handed-down traditions and on-going innovation – that is what Germany's meat products industry stands for. The companies fulfil the strict demands of the EU hygiene regulations and many other quality assurance systems. On an international scale, the approx. 400 companies with around 60,000 employees are traditionally seen to be highly efficient and innovative, due among others to the high standard of staff qualifications, state-of-the-art technical equipment and modern research facilities.
The meat products industry with its turnover of a good 20 billion Euros is one of the leading branches on Germany's food sector. In 2020, more than 1.5 million tonnes of sausages were produced in Germany. This includes 977,000 tonnes boiled sausage, 355,000 tonnes of raw sausage and 177,000 tonnes of cooked sausages. These products are enjoying a constant growth in interest from abroad. Today already, more than 343,000 tonnes are exported all over the world at a value of more than 1.7 billion euros.