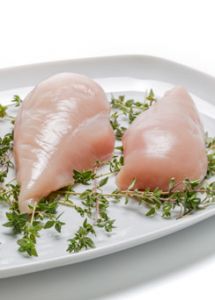 Poultry - quality made in Germany
Around 6,500 highly qualified poultry producers in Germany have made the following personal promise:  to provide high-quality poultry meat produced in accordance with regulations governing the protection of animals, consumers and the environment. Close cooperation between the hatching, rearing and processing stages is a feature of the entire poultry production cycle. The chicks to be reared come from specialist hatcheries, most of which have their own breeding stock. The hatcheries have the expertise required to provide optimal brooding conditions.
Hygiene and keeping animals healthy is our top priority. The stalls and all the equipment are therefore thoroughly cleaned and disinfected before the chicks arrive. Afterwards, the straw is put in and the drinking and feed lines are filled. The food for the animals depends on their precise requirements. Depending on age, different types of feed are normally used. Grains — mainly corn and wheat — are the biggest component of the feed, though it also contains plant protein, such as protein from soya, rapeseed or peas. Modern stall technology ensures that the animals have access to food and water at all times. The feeding and drinking facilities 'grow' with the chicks, ensuring a high level of hygiene during the entire rearing process.
Vets ensure that only healthy animals leave. They also check the poultry producers' records and ensure that the animals have a clean bill of health. This living check is the prerequisite for transporting the animals and later processing the poultry. If everything is OK, then the chickens and turkeys are taken to the slaughterhouse in accordance with the regulations of the German Animal Transport Protection Order.
German poultry production is famous for the short distances between farms and slaughterhouses. The poultry is processed under strict hygienic conditions. After arriving at the processing facility, the animals are again examined by an official supervisory body. Processing itself is also subject to supervision by a vet.
Poultry production in Germany reached record levels in 2020. A total of 1.6 million tonnes of meat was produced, making Germany one of the biggest producer of poultry products in the EU. Poultry consumption was 1.8 million tonnes in 2020, or 22.3 kg per person. Export has also increased significantly over the past few years. In 2020, 730,000 tonnes of poultry products were exported to almost 100 countries worldwide.