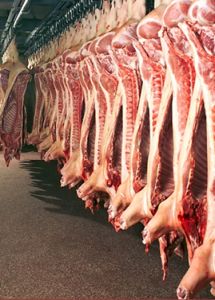 The German meat industry: Experts for quality, service and reliability
Top technical and hygiene standards characterise the companies belonging to German Meat. They fulfil the strict requirements made by the EU hygiene regulations and a large number of other quality assurance systems. On-going internal and external controls of processes and products offer the greatest possible safety. Official veterinaries monitor production, from the condition of the supplied animals through to clearing the ready packed cuts for export. This warrants a high quality across the whole supply chain from slaughtering via cutting and cooling through to further processing.
Germany offers the meat-buying agent a wide range of partners, from small-scale providers of speciality ranges via medium-sized business through to internationally operating corporations. The diverse, modern companies form the basis for the production of top-quality meat. In spite of all the differences displayed by the German companies, they all offer top quality, hygiene, individual service and absolute reliability in the production of customised cuts.




Meat from Germany: In demand worldwide
Germany is one of the EU's top meat producers. It leads the European market in the production and export of pork, while taking second place for beef with a production share of 15%. In 2020, approx. 1.1 million tonnes of beef and veal were produced together with 5.1 million tonnes of pork. Thanks to their high quality, the products are in great demand all over the world. In 2020, German companies exported around 316,000 tonnes of beef and 2.7 million tonnes of pork to more than 100 countries on earth.
One special service offered by the German firms is the production of special cuts to meet the specific demands of the individual sales markets. The German meat industry is a guarantee for reliability, individual service and global supply of quality meat and innovative meat products.

Expertise: The basis for our quality meat
Germany has a long tradition of slaughtering and meat cutting. Production methods and structures have gone through constant on-going development, putting them on a high professional level today in terms of animal genetics, animal health, production technology, quality assurance and hygiene. When it comes to top-quality meat, all production levels in Germany work closely together. Agriculture, research institutes and training facilities together with slaughtering and cutting businesses share their experience and findings from science and practice. This ensures that the demands made by the sales markets are swiftly implemented in the breeding, fattening and husbandry of the animals.